If you are interested in adopting Emrys please read about our re homing process

http://www.friendsoftheanimalsrct.org.uk/a...oradoption.html

and complete a Pre Adoption form (link below) and Katherine or Pauline will contact you for a chat

http://www.friendsoftheanimalsrct.org.uk/dogadopt.html

Name:Emrys
Age: 3 months (xmas day babies)
Breed: Collie
Can I live with Children: Yes
Can I live with cats: Not tested
Can I live with other dogs: Yes
Fostered In: Crewe, Cheshire

Other Information:
We were approached to take on two pups from a local farmer that was going to get rid of them. They are beautiful Collie boys of just over 3 months. Little Christmas litter.
Emrys is the more vocal, confident one of the two, he will growl and bark at Caradoc and take his toys and food if allowed. He loves to play with his toys and the children and would love to play with the resident dog, but is still a little scared.
He will need a home that will help him in his transition from stable to home, but also that will be prepared to do some training and lots of exercise that this breed needs. Would be great at agility, flyball or any other activity that would stimulate his brain and keep him out of trouble
He will be fine with other dogs, has not been tested with cats and is fine around the children. He has been wormed, deflead, and had 1st vaccination.
Emrys on the right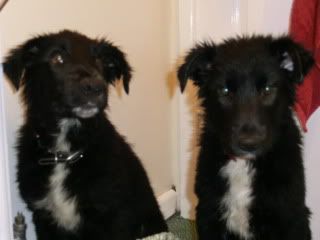 Emrys at the back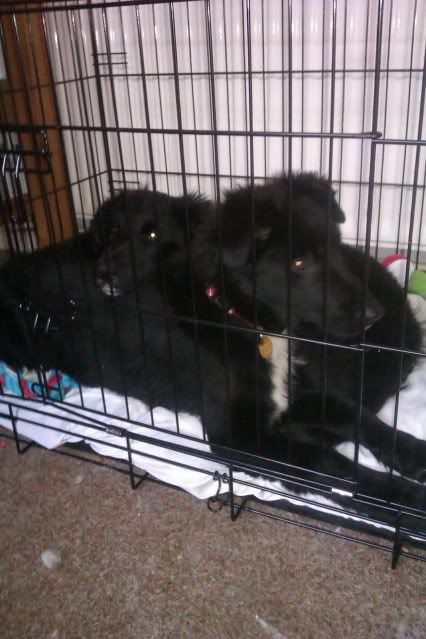 As with all puppies it is a requirement of adoption that all puppies will be neutered at 6 months at your expense
A voucher will be given at the time of adoption for a refund of £40 when he is neutered