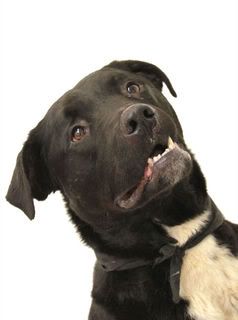 Please meet Cheeky Chopper!
Chopper is an approximately 4 year old Labrador cross who came to us after he had been ill treated by his previous owner. Naturally, Chopper is still wary of male strangers but once you have built up his trust… you have a faithful, lifetime companion.
Chopper has been with us for over a year, and in this time we have worked with him to give him the love and confidence he needs to help him find his forever home. We feel that the time has now come for him to be able to do this…………
Here's what Choppers carer says about him; 'When Chopper arrived just over a year ago, he was a skinny, nervous and anxious boy who came in wide eyed with his tail between his legs and he would wet himself when you touched him. He looked forlorn and as though he had given up on the human race. Little by little, with love and time – a cheeky, loving side of chopper began to appear. He would start to wag his tail instead of running to the back of his kennel when I arrived, or give a little bark if I was running late with his dinner!
Over time, Chopper was introduced to our other sanctuary dogs and now spends his days running free at the sanctuary with around 25 other dogs. He gets on with all of the dogs here and sleeps with a group of 8 dogs at night time. I can't believe the transformation in this lovely dog, he is now my shadow and follows me around just waiting for fuss or a kind word. When let out in the mornings, he is always the one most pleased to see me and covers me with his soppy kisses! He has great recall when I take him out off lead and is always checking to see where I am. He's become my best friend and I will be so sad when he finds his forever home – but happy for him. Whoever adopts Chopper will have the most loving and loyal dog they could ever wish for. I love him so much and just know his new family will be so lucky to have such a wonderful new family member…if I didn't have cats he would certainly be coming home with me….'
Chopper is fully vaccinated, neutered and micro-chipped. Chopper would love to live with a female dog for company but could not live with cats. Chopper has not lived with children so would like a home with children aged 12 plus.
If you could offer Chopper a place in your heart and your home – please call Kymm on 07886 620009 or email southeastdogrescue@hotmail.com