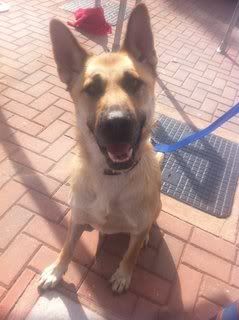 *ADOPT ME*
Please meet Scooby!
Scooby is an approximately 5 year old German Shepherd Cross who has been neutered, vaccinated, wormed, deflead and microchipped.
Scooby is used to living with many other dogs, as well as ducks, chickens and geese.
Scooby is a loyal and loving dog who knows basic commands and is eager to learn.
Scooby bonds quickly and securely to his primary carer, and can then become possessive over his owner - therefore we are looking for a home for Scooby who are prepared to work on this with our behaviourist. A standard 150 pound adoption fee will apply, which will include a consultation with the behaviourist and ongoing support will be given by south east dog rescue, as well as the behaviourist if needed.
Please dont be put off by the fact he will need some work, he really is a loving and friendly dog who just needs a chance in life.
Scooby will need a home with another resident dog only, no cats and an adult only home
Please call Kymm on 07886 620009 or email southeastdogrescue@hotmail.com
Approx age: 5 YEARS
Sex: MALE
Housetrained? YES (may need reminding as been in kennels for a while)
With other dogs? yes
With cats? NO
Good with children? NO
Location: KENT
Contact details: JODIESEDR@HOTMAIL.CO.UK OR Kymm 07886620009
Foster or forever home? FOREVER