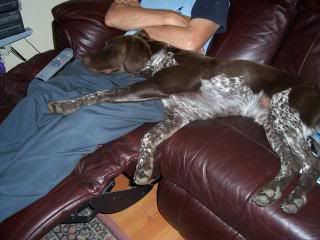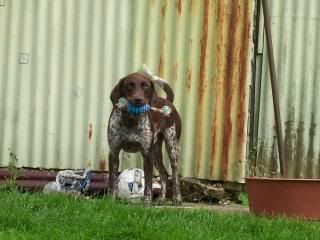 on the 18/8/07 we saw this boy on dp, it was just two months after our dalmatian and gone to the bridge and we were not really looking for a new dog, however an e-mail was sent to hwar expressing an interest but as we are in Salisbury and he was in Hereford we figured someone siutable would be found much closer.
We were so surprised when Barb said , homecheck pending, he could come to us. The homecheck was difficult to arrange due to distance, but Barb would not give up and arranged for her son, who was working in our area, to pay us a visit. Just one week after seeing this boy we went to bring him home.
As has been said on dp before in those early days we did wonder if we had done the right thing. He had issues, was super hyper with no manners, he was our first rescue and first male. But with time, patience, direction, stability and lots of love he is the most wonderful dog. He still gets a little anxious at times but trust us enough when we tell him he is safe and need not be scared. Our two labradors love their little brother and the bond we worried might not be there is now unbreakable, particularly with his "daddy" who is a real soft touch! So we would like to thank Barb and hwar for letting him come to us and his other family for giving him up. It is like he has always been with us, we love you Reece.