Well its a year since I picked up Zoe - now Ruby from Warrington Animal Welfare.
We lost our much loved Holly on the 1st of August last year and we were devastated and I could not think of getting another dog . But my two children, missed having a dog in the family ....soo after much persuasion we started looking on DP. Then we saw this photo...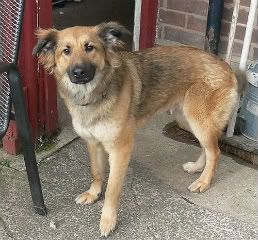 That was it ....and within 10 days we brought Ruby home. At first I was still unsure if I was doing the right thing to get another dog so soon but told myself that I had to look at it that I was dong it for her not for me and in a crazy way it is what our other dog would have wanted.
Within the week she was in my heart and is now my soul mate. She is the most loving, happy dog I could have wished for.
Again thanks to Catherine and Suzanne (her foster Mum) and all at WAW for saving her for us.
Happy Birthday Ruby
Looking smiley
On her hols
Just being cute