Reading the other thread about the increase in reports of animal cruelty, makes me wonder just how many cases go unreported. We regularly get strays in that are in awful condition, I can't say I have ever thought about reporting these cases to the RSPCA, there seems little point if no-one knows who the owners are.
Meet Sampson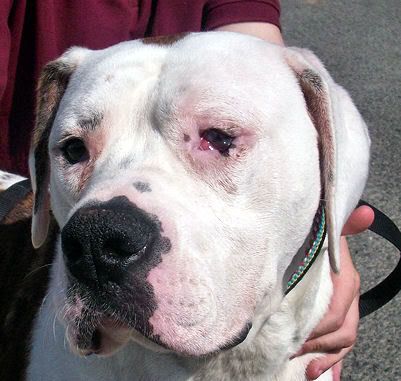 Sampson stumbled onto a remote farm a little over a week ago. Wafer thin, his eyes so ulcerated, weeping heavily and so full of matter they were literally stuck closed. His ears were bright red infected and irritated.
He was picked up by the Dog Warden and immediately taken to the vet - they cleaned him up as best they could, gave a course of antibiotics and ointment to ease the irritation. Photos of when he came in would be too horrific to show.
This dog has the most wonderful temperament, although he must have been in agony he has allowed us to bathe his eyes and apply the cream every day without a single murmur of complaint. I expect this is the first time he has ever known gentleness and love, he gives it back a thousandfold. He loves to go for a walk, he is good with other dogs, and as for mealtimes!!!!!!!!!. Pop a treat in his mouth, he puts his head back, closes his eyes and savours every morsel - its great someone who likes my cooking
He will lose at least one eye, hopefully the other can be saved. Whatever happens he is safe with us now and will never be hurt again.
This week alone (its only Wednesday) we have had 3 westie types dumped in a skip, covered in mange and again needing months of veterinary treatment, a collie who has suffered a stroke or some kind of head trauma - his head is held on the side and he is very wobbly on his legs.
Should we be reporting these cases?